01 Jul

12 – BARCELÒ BALANZÓ ARQUITECTES – Building of 48 public apartments and parking in Torrelles (E)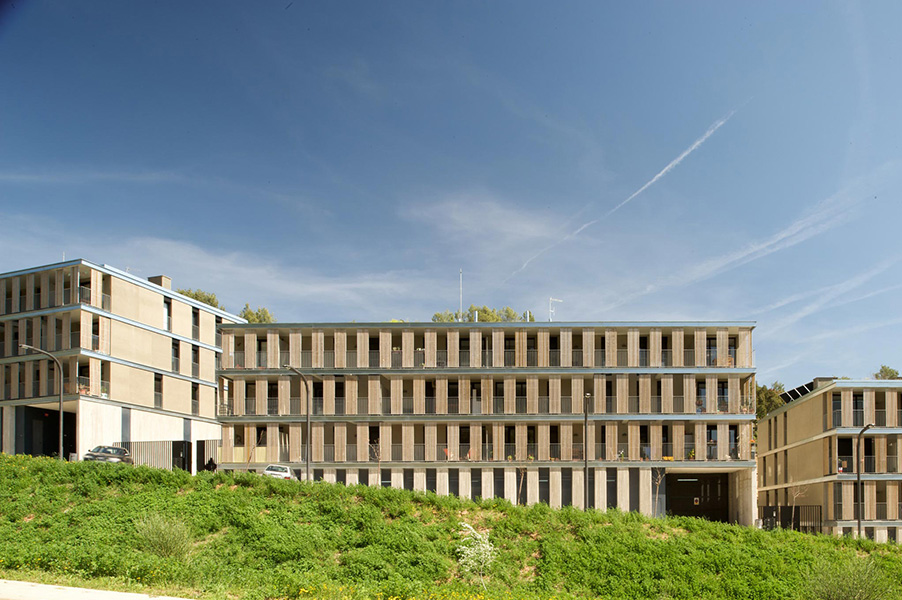 AUTHOR
Designer or design team Barceló-Balanzó Arquitectes SLP
Antoni Barceló i Baeza, Bàrbara Balanzó Moral
The project has been submitted by: Cesc Trillo Anguera
Plot area: 3.996,70 mq
Gross Area: 7.530,88 mq
Of which
Residential: 66,80 %
Public/communal areas: 5,60 %
Facilities for the public: 28,20 % (Parking)
Business/trade: 0 %
Offices: 0 %
Number of residential units: 48
Typology of users: Families
Total buildin costs Euros 4.499.266,00€
Building Cost = Total Bulding Cost / Gross Area: 597,50 €
Floor area ratio = Gross Area / Plot Area: 1,88
Work started on date: Wednesday, 1st October 2008
Work completion date: Sunday, 31st October 2010
DESCRIPTION
We have developed an environmentally friendly housing project in the outskirts of Torrelles de Llobregat near Barcelona,  a rural area in the process of urbanization. Fragmenting and compacting the building in blocks reduces the impact of construction in the zone and resolves the relationship with the environment and topography.
In this type of public housing, the parallelepiped block has many eco-biological, rational and constructive advantages: it allows a low footprint on the territory; insertion into the landscape is achieved without volumetric or aesthetic violence; a reasonable depth (13.5m), adequate sunlight and good ventilation.
The approach to the housing project has been to incorporate traditional knowledge, nature and state of the art techniques. The innovation lay in how traditional knowledge was re-used. The Torrelles project used local resources (materials as well as systems) to better integrate the building and its surroundings. It is made up of 4 separate, low-rise apartment buildings that gently rise from the landscape. They require minimum construction and disruption to the local environment and are cooled both by wooden screens that shade them and natural valley air.
Each building has one inner courtyard, which not only provides sitting areas, but also important natural cross-ventilation throughout the buildings. Each apartment faces the valley, allowing optimal natural light as well as scenic views. Each dwelling is also fitted with a brise-soleil, or sun screen, which provides shade for terraces. The buildings curtail heat loss in the winter and heat gain in the summer. Rain water is recuperated for plant watering and solar panels provide hot water. The Torrelles housing project also satisfies an economical need for inhabiting the area. The houses were occupied immediately after they were completed in 2010 and feedback from residents after one year has been very positive. The result of the intervention can be appreciated in the reduction of the environmental impact of the building on its surroundings; a commitment to the contextualisation and integration of the new building in its setting, and to energy efficiency. These strategies interact directly with the landscape and with people's well-being.
OWNERSHIP
Promoter IMPSOL, Institut Metropolità del Sòl
Allotment rule: Open Public Comptetition
Reduction cost percentege compared to the market value:
assigment:29 %
LOCATION
Country: Spain
City/town: Torrelles de Llobregat, Barcelona
Address: C/ Olivereta, 2-8, Sector Can Coll
08629 Torrelles de llobregat, Barcelona