01 Jul

13 – VORA ARQUITECTURA – Social housing at Can Cantó, Eivissa, Ibiza (E)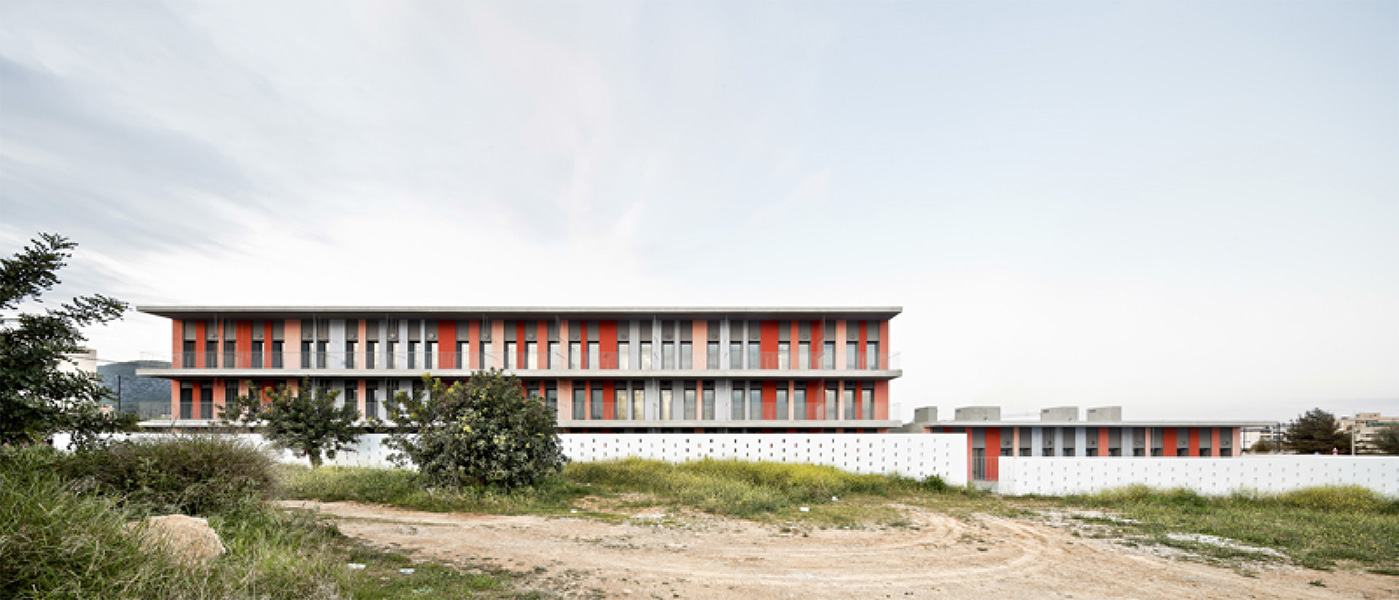 AUTHOR
Designer or design team: Vora arquitectura
The project has been submitted by: Pere Buil
Plot area: 1.980 mq
Gross Area: 3.170 mq
Of which
Residential: 60 %
Public/communal areas: 40 %
Facilities for the public: 0
Business/trade: 0
Offices: 0
Number of residential units 30
Typology of users: families, other
Total building costs: 2.620.000,00 €
Building Cost = Total Building Cost / Gross Area: 826,5  €/mq
Floor area ratio = Gross Area / Plot Area: 1,60
Work started on date: Tuesday, 23rd March 2010
Work completion date: Saturday, 20th August 2011
DESCRIPTION
The building is comprised of 30 social housing apartments. It forms a line along the narrow extended site, whilst adapting to the land's slope and to the maximum volume allowed by city-planning regulations.The totality is fragmented into a loose set of independent elements which distribute the plot into three strips. The central housing block stands out among the group due to its striking volume, as well as its regular and abstract prismatic structure, which is surrounded by railings that delimit the plot surface and contains the services area. There is a sole prismatic body that rises with its access staircase and which makes tangential contact with the passageways that allow access to the flats.
The housing units are flanked on both sides by two wide, open, and covered galleries. One of them is the passageway that allows access to the flats and the other is a balcony that is oriented towards the south. The apartments are all open-ended and permeable from one façade to the other, which allows for good ventilation and lighting, and at the same time they are well protected from the sun thanks to the shadow filter created by the south-facing balcony.
The two elongated façades display the artwork of artist Anke Blaue, which is a subtle play of coloured strips painted onto a dark grey background. The colour palette (modified and intensified) is typical of the modest architecture that can be found in Ibizan buildings from the 1970s, tonalities such as ochre and earth that traditionally conceal the traces of rain in dry climates.
OWNERSHIP
Promoter: Imvisa (public)
Allotment rule:  public "lottery". people who apply must accomplish income conditions (there is a maximum and a minimum income
Reduction cost percentage compared to the market value:
assigment: 60 % (but market value is decreasing…)
LOCATION
Country: Spain
City/town: Eivissa, Ibiza
Address: Carrer des jondal 7-13