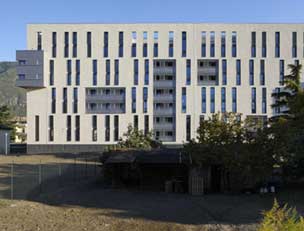 01 Jul

16 – LABORATORIO DI ARCHITETTURA ARCHITETTI ASSOCIATI REGGIO EMILIA – Social housing "CasaNova" EA8, Bolzano (IT)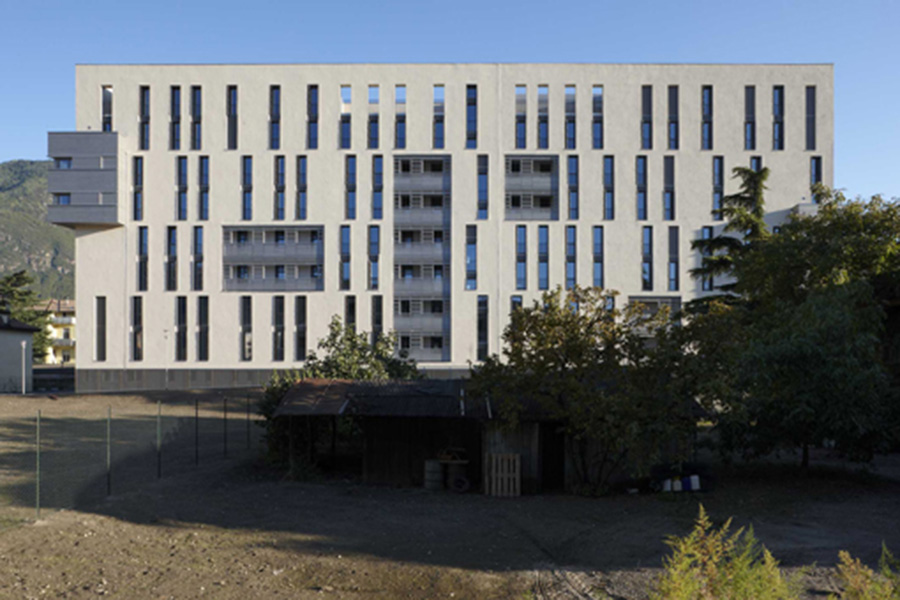 AUTHOR
Designer or design team: Laboratorio di Architettura Architetti Associati – Reggio Emilia (RE)
Roberta Casarini, Andrea Rinaldi
The project has been submitted by: Roberta Casarini
Plot area: 3.585 mq
Gross Area: above ground 9.638,65 mq – basement area 6.015,50 mq (parkings and cellars)
Of which
Residential: 89,6% (8.631,65 mq)
Public/communal areas: 10,4% (1.007 mq)
Facilities for the public: 0
Business/trade: 0
Offices: 0
Number of residential units: 85
Typology of users: families, old-aged people, foreigners/immigrants
Total building costs: 11.218.159,36 €
Building Cost = Total Building Cost / Gross Area: 1.163,87 €/mq
Floor area ratio = Gross Area / Plot Area: 2,68
Work started on date: Tuesday, 12th May 2009
Work completion date: Monday, 8th August 2011
DESCRIPTION
BACKGROUND / URBAN STRATEGY
The block EA8 is one of the "castles" of the neighborhood Casanova in Bolzano. Density, community and energy, are the focal points of the urban strategy.
PROGRAM / FUNCTIONS
Eighty-five apartments arranged in three residential blocks and reachable through only five staircases and one hundred and thirty-eight underground parking lots represent the functional scheme. The residences are accessible only from the internal courtyard and are divided into eight different typologies, all provided with outdoor living spaces: a private garden on the ground floor, large balconies in the middle floors and large terraces for the penthouses, arranged on two levels.
STRATEGY DESIGN
The block expresses the character of a castle. Outside it is composed following a sculptural approach, with a compact and massive volume. It is emphasized by the fine and deep openings in double row, from the recesses of the lodges and the lightness of the wooden bow-windows overlooking the magnificent landscape. The inner shell of the courtyard is composed instead of a sculptural surface that consists of a diaphragm bunt in larch wood, permeable to sight, light, relationships, but ensuring privacy to the inhabitants.
ENVIRONMENTAL SUSTAINABILITY
ENERGY> ENVIRONMENTAL NEED> POSSIBILITY' OF CONSERVATION OF AVAILABLE RESOURCES
Casa Clima A, rainwater recovery, integration with renewable energy (solar thermal and photovoltaic), alternative mobility to the private cars, green roofs, materials zero km.
The house as a bank of energy.
SOSTENIBILITA' ECONOMICA
DENSITA'> NECESSITA' ECONOMICA> POSSIBILITA' DI ABITAZIONI A BASSO COSTO RISPARMIANDO IL TERRITORIO
Compact bodies for cost savings, a density of 3mq/mq to save land, optimization of surfaces for of high quality living for all.
SOCIAL SUSTAINABILITY
COMMUNITY> SOCIAL NEED> POSSIBILITY 'OF RECONSTRUCTION OF A COMMUNITY'
The diversity of accommodation types allows the cohabitation of families, young couples and elderly people in the idea of building a community. A lovable place where people live and work, where they children grow and play. These children, once adults, will transmit their good memory to other children. Only the awareness of the value of the environment you live allows a continuous evolution.
OWNERSHIP
IPES Istituto per l'Edilizia Sociale provincia autonoma di Bolzano
Promoter: IPES Istituto per l'Edilizia Sociale provincia autonoma di Bolzano
Allotment rule:  Ranking with reference to IPES criteria
Reduction cost percentage compared to the market value:
assignment: 100 % with variable cost according to familiar income
LOCATION
Country: Italy
City/town: Bolzano
Address: via Nicolo Rasmo