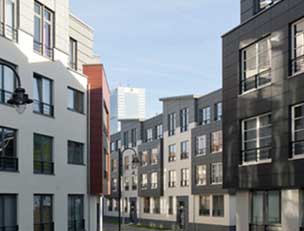 01 Jul

29 – DDS & PARTNERS ARCHITECTS – Bara – De Lijn, Brussels (B)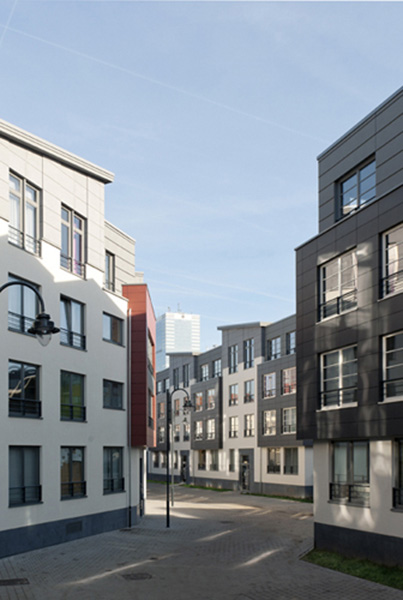 AUTHOR
Designer or design team: DDS & Partners Architects
The project has been submitted by: Dirk Bigaré
Plot area:10.920 mq
Gross Area: 15.500 mq
Of which
Residential: 100%
Public/communal areas: 0
Facilities for the public: 0
Business/trade: 0
Offices: 0
Number of residential units: 147
Typology of users: families, old-aged people, foreigners/immigrants
Total building costs: 14.200.000,00 €/mq
Building Cost = Total Building Cost / Gross Area: 916 €/mq
Floor area ratio = Gross Area / Plot Area: 1,42
Work started on date: Thursday, 1st January 2009
Work completion date: Saturday, 1st January 2011
DESCRIPTION
The project Bara De Lijn is a large residential ensemble composed of 4 mid-income residential buildings for a total of 147 units, located in the city center of Brussels near the main station Midi TGV.
The buildings are articulated around a new public street and a large private landscaped garden, as a part of a larger mixed-use ensemble composed by offices, a mixed building, a hotel and a SME building, in the aim of recreate a true urban tissue and a revival for a major city block, originally used as a storage zone for trams.
The project is two-fold: seen from within, the public street as well as the major landscaped garden create a calm city center oasis, on which open the balconies; no through-traffic in the new street, limited to residences access only participate to a quieter new way city center living. Seen from the adjacent streets, the news buildings and a renovated one allow to recreate a continuous urban skyline along the streets, with an architecture of witch the variety of façades, roof heights an sloping roofs echo the variety of existing buildings along the streets of Brussels's city center.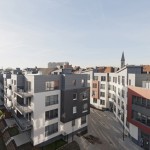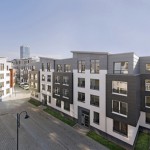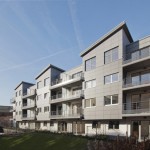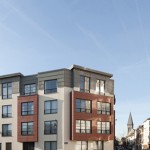 The energy efficiency of the project is based on the centralized production of water with an efficient co-generation system. The apartments are also equipped with controlled mechanical ventilation systems, allowing for the recovery of heat-in-a-heat exchanger when stale air is being evacuated and comes in contact with fresh air. A highly efficient thermal insulation was of course paramount to the overall energy efficient system. Also, a system of recovery of the rainwaters is located under the street and allows to re-use rainwaters the gardens as well as for common space and garage maintenance uses. The residence reach a global thermal index of K35, thus under the K45 index required by regulations.
The maximum selling price of the apartments was fixed from the beginning, and the SDRB supplied to the developer the difference between the selling price and the current price in the area. Still, as the final building cost was around 916 euro/m2, a great effort was produced to control the cost and give a high quality to the operation.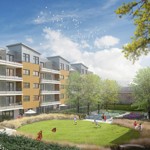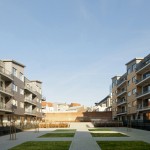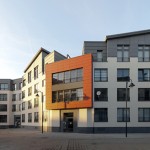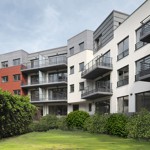 OWNERSHIP
Cityline sa (Immo BAM, CEI De Meyer, SDRB)
Promoter: SDRB
Allotment rule: The competition was based on a previous masterplan and associated a developper and an architect
Reduction cost percentage compared to the market value:
assigment: 25%
no rent
LOCATION
Country: Belgium
City/town: Brussels
Address:Rue Bara – Rue Eloy 1070