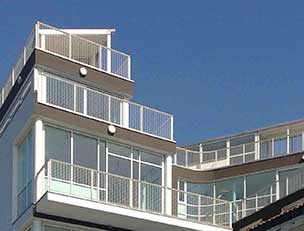 01 Jul

40 – DANIELE BRANDOLINO ARCHITETTO – Housing Negrotto 31/4, Milano (IT)

AUTHOR
Designer or design team: Daniele Brandolino
The project has been submitted by:Daniele Brandolino

Plot area: 330 mq
Gross Area: 834 mq

Of which
Residential: 85%
Public/communal areas: 15%
Facilities for the public: 0
Business/trade: 0
Offices: 0
Number of residential units: 6

Typology of users: students, temporary residents
Total building costs:1.050.000,00 €
Building Cost = Total Building Cost / Gross Area: 1.258 €/mq
Floor area ratio = Gross Area / Plot Area: 0,39
Work started on date: Thursday, 20th May 2010
Work completion date: Thursday, 15th December 2011

DESCRIPTION

The project area is located in a separate compartment of the urban surrounding, cut  by railway lines: the Milan Porta Garibaldi – Rho, and the two junctions to and from Seveso-
Meda, Canzo-Asso. The resulting triangle is occupied after the war by a combination of craft and small industrial types, often with adjacent residence, a variety of building types. Two underpasses, one road and the other pedestrian, connect the site with the city, the headquarters of the Triennale Bovisa and the Polytechnic University.  The small project area are closed completely between blind walls except for the side street, in the pentagonal form due to different orientations of the 'triangle' of land
insite on which, – 330 square meters. public land – has as was in fact a plate box at the service of existing surrounding settlements, the project must maintain, creating a
intervention to 'ground zero consumption', and in fact this is the mandatory plan form of the settlement.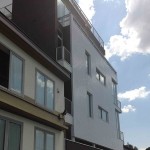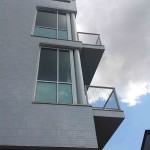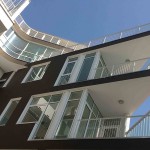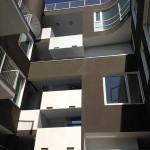 The program involves the construction of six three-room rented accommodation for students and a set of common services. Through a plate structural load distribution and the demolition of a box to street, the building is built free from structural correspondences, with a featured in stilts that generates, in addition to space and common services, plans (4) habitable higher in order to 'capture' light and air over the curtains walls that surround the entire area.
The increased height of the building from the surrounding buildings is diluted by splitting volumes and arrays facade and using traditional materials and present in the sector (aluminum windows in curtain wall, plaster, iron Klinker, Uglass). All accommodations are with outdoor living spaces-terraces and balconies loggias of great depth. The building is equipped with cutting-edge plant in terms of savings and energy regeneration (the load is supplied by a CHP last generation), designed with particular attention acoustic comfort and built with the use of highly recyclable (structures and distributions in iron, paving the spaces common and external composed of recycled rubber and riciclable) and low environmental impact.
OWNERSHIP
Olivoil srl
Promoter: S.I.R.
Allotment rule: ranking
Reduction cost percentage compared to the market value:
assignment:15%
rent: 10%
LOCATION
Country: Italy
City/town: Milan
Address: via Negrotto 31/4